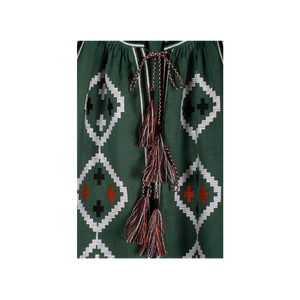 Talisman Midi Dress
Regular price
US $1,850.00
US $1,850.00
US $0.00
One of our most beautiful and popular styles, re-released for this Summer.
Into this traditional Ukrainian pattern we incorporated a bright turquoise-blue embroidered element, inspired by the ancient protective talisman which guards its wearer, fends off negative vibes, and looks great!
100% Linen

Detachable belt
Snap buttons down the front
Dry Clean Only
This dress has a looser fit, and comes in 2 sizes: Standard (SD) and Extra Small (XS).  See the size guide for more details.
Emerald/Brown-Black
Style Code: DM-EP2-GSS/FYE