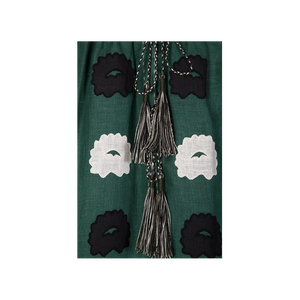 Hidden Meadows Dress
Regular price
US $2,050.00
US $2,050.00
US $2,050.00
US $0.00
Back in simpler times there was a beautiful tradition for young people in Ukrainian villages to meet one another.  A young woman would weave an elaborate wreath of flowers gathered in her garden, and set it afloat on a nearby river.  The lucky young man who later found the wreath would then walk upstream from village to village, looking for the garden that had such flowers.  There he would find his true love.  This is the inspiration for our new Hidden Meadows collection of applique-embellished dresses and blouses.
This chic, limited-edition dress in lightweight emerald green linen, featuring hand-made appliqué embroidery is a statement piece worthy of any wardrobe. 
This dress comes in 3 sizes: Medium (M), Small (S), and Extra Small (XS).  See our size guide for more details.
100% Linen
Detachable linen belt
Snap buttons down the front
Dry Clean Only
Dress is 115cm/46"(xs) or 120cm/48"(sd) long when measured down the front
DM-EP4/HDM-1