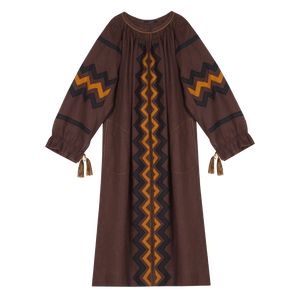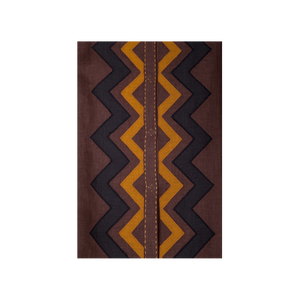 Zanzibar Dress
Regular price
US $1,375.00
US $1,375.00
US $0.00
A charismatic dress for your next vacation, the Zanzibar is made of fine lightweight linen with hand-cut appliqué embroidery.  The warm chocolate brown linen, highlighted by honey and black appliqué make it eye-catching in any scene.
The drawstring sleeves also have elastic at the wrist, so you can cinch the sleeves up above the elbows. 
"One of my favorite dresses." - Vita Kin
This dress has a looser fit, and comes in 2 sizes: Standard (SD) and Extra Small (XS).  See our size guide for more details.
100% Linen
Snap buttons down the front
Dry Clean Only
Chocolate Brown/Honey-Black
Style Code: DM-0040/ZAN-1